In an exciting new development, in conjunction with Ross Emmett and EMMETT Therapies HQ in Australia, a new course has been launched for people in the foot care world – this includes Reflexologists, Chiropodists, Podiatrists and Foot Health Practitioners.
The 14 hour practical, hands-on training will start with the 8 hour EMM-Tech course, which involves learning the basic principles of EMMETT Technique and 10 procedures to help the whole body – from feet to head as listed above. This is great for self care and is considered a muscle "first-aid" suitable for everyone. The first day will be open to students who only wish to do this part of the course and in that case the cost to them will be £110.
The second day will be a set of 6 more moves taken from the practitioner and advanced course, but focussed specifically on helping the lower leg and feet. This part of the course will cost an additional £110.
For those wanting to complete the full 16 hours i.e. the general EMM-Tech plus the foot care day, the full cost will be £220.
Those who have previously completed EMM-Tech may repeat the general day for half price – and this is recommended, especially if there is a long time since it was completed previously. We would want everyone to be up to speed to start the Foot Care day, as we will be focussing on the foot moves.
This is a fantastic way to learn more about what EMMETT can do in your specialist field. We consider it an in-between step from the Introductory course to the Practitioner course.
The first course was held in Penybanc, near Ammanford, Carmarthenshire in June, with other courses held in the Vale of Glamorgan and Milton Keynes. The tutors were Judith Johnson and Carol Fisher. Carol is a very experienced reflexologist as well as being a Certified Advanced EMMETT Practitioner and EMM-Tech Tutor. Judith has been practising EMMETT for 14 years, is a Certified Advanced EMMETT Practitioner as well as an EMMETT Practitioner Course Instructor both here in the UK and Internationally.
We are very excited to have offered this for the first time anywhere, worldwide. New dates are now available.
Please make contact if you would like more information. An application form is available on the EMM-Tech page.
Foot Care Moves
Heel Pain – discomfort on heel strike when walking, discomfort deep under foot in centre of heel
Ankle Pain – ankle pain and discomfort
Ankle Restriction – ankle joint restriction or rigidity, poor dorsiflexion
Ankle Release – for ankle discomfort, stiffness and tightness in the area, restricted pronation / supination & heel discomfort
Foot Pain – discomfort or inflammation at base of big and / or little toes, compressed toes
Hammer Toe –  aching feet, lack of foot and toe flexibility
Frequently Asked Questions
Who is this course suitable for?
The additional course is suitable for anyone who has a qualification in any of the foot care professions – this includes, but may not be limited to reflexologists, podiatrists, chiropodists and foot health practitioners.
Evidence of qualification will be requested.
What will I learn?
The results from these moves are usually immediate – you will be able to see and feel the changes for yourself and after a short demonstration and practise you will be able to achieve the same kind of results for yourself and others.
On the additional foot care course you will learn additional moves specifically for the lower leg and feet.
How is the course assessed?
EMM-Tech is not an assessed course however students are supervised during practice sessions and extra assistance is offered where required, so all become confident to perform the moves. A certificate of attendance is awarded at the end of the 8 hour course.
Can I use the training days as Continued Professional Development (CPD)?
This will depend on which professional body you have membership of. If you contact your own association and enquire whether you will be allowed to claim CPD. EMMETT Therapies is happy to help by providing them with information about the course for them to evaluate.
Investment
Short Course Fees: GBP 110 Early Bird fee, GBP 130 course fee for payments within 3 weeks of the course date.
Please note:
Cancellation policy is in place.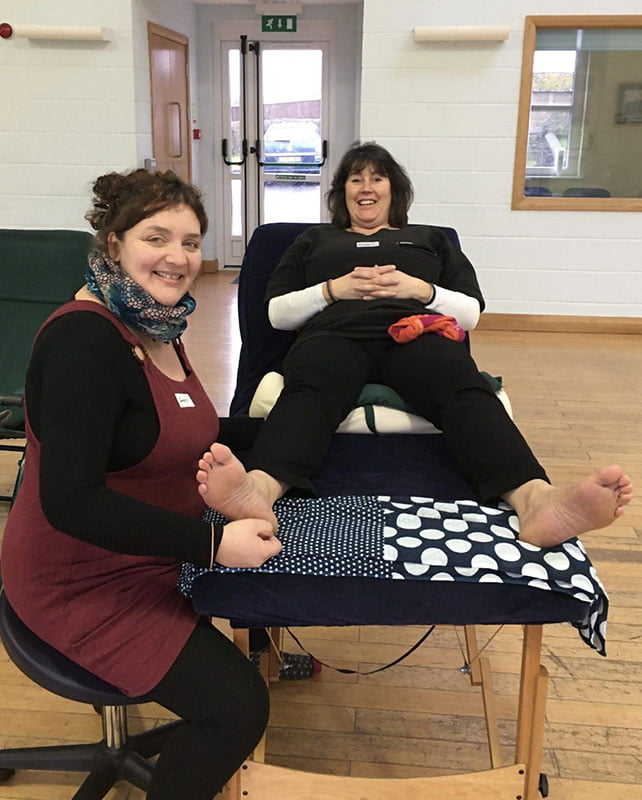 A new addition to the EMM-Tech Course Family