Pre-requisite: EMM-Tech Short Course or at least Modules 1&2 of the Practitioner Course
This exciting new course is available to yoga teachers, pilates teachers and personal trainers. Available for the first time here in the UK in 2022, I will be offering this course locally in South Wales but am also happy to travel to teach this course if there are sufficient numbers.

What you will learn
(Approved syllabus version: 2020)
12 releases to support typical exercise movement and posture:
Foot Dorsum and Calcaneus – to support balance
Forearm – to support grip
Pectoralis Minor – to relax the chest
Psoas 12th Rib / Navel – to relax the lower back
IT Band – to relax the side of leg
IT Band / Sart – to support squatting
Latissimus – to support fluid arm movement
SI Joint – to support forward bend
Ankle – for ankle flexibility
Gracilis / SI Joint – to support lateral leg rotation
Rescue / Recovery – to support deep breathing
I am very excited to be offering this course here in the UK. Dates are now available on the EMM-Tech application form.
Please make contact if you would like more information. An application form is available on the EMM-Tech page.
Pre-requisite: EMM-Tech Short Course or at least Modules 1&2 of the Practitioner Course
Short Course Fees: GBP 110 Early Bird fee, GBP 130 course fee for payments within 3 weeks of the course date.
Frequently Asked Questions
Who is this course suitable for? Pre-requisite: EMM-Tech Short Course or at least Modules 1&2 of the Practitioner Course. This course is ideally suited for exercise professionals (Yoga Instructors, Pilates Instructors, Personal Trainers, Coaches etc.) interested in learning some EMMETT releases to combine with their exercise disciplines. These moves can be used with one-to-0ne clients or within a class setting.
What result can I expect?: The results from these moves are usually immediate – you will be able to see and feel the changes for yourself and after a short demonstration and practise you will be able to achieve the same kind of results for yourself and others.
How is the course assessed?
EMM-Tech is not an assessed course however students are supervised during practice sessions and extra assistance is offered where required, so all become confident to perform the moves. A certificate of attendance is awarded at the end of the 8 hour course.
Can I use the training days as Continued Professional Development (CPD)?
This will depend on which professional body you have membership of. If you contact your own association and enquire whether you will be allowed to claim CPD. EMMETT Therapies is happy to help by providing them with information about the course for them to evaluate.
Investment
The current cost for each participant for this additional 8 hour course is £110 in the UK. Payment is required on booking a place on a course. This is the early bird fee and must be paid at least 3 weeks before the course. For further details on terms and conditions please see the emmett-uk.co.uk website.
Please note:
Cancellation policy is in place.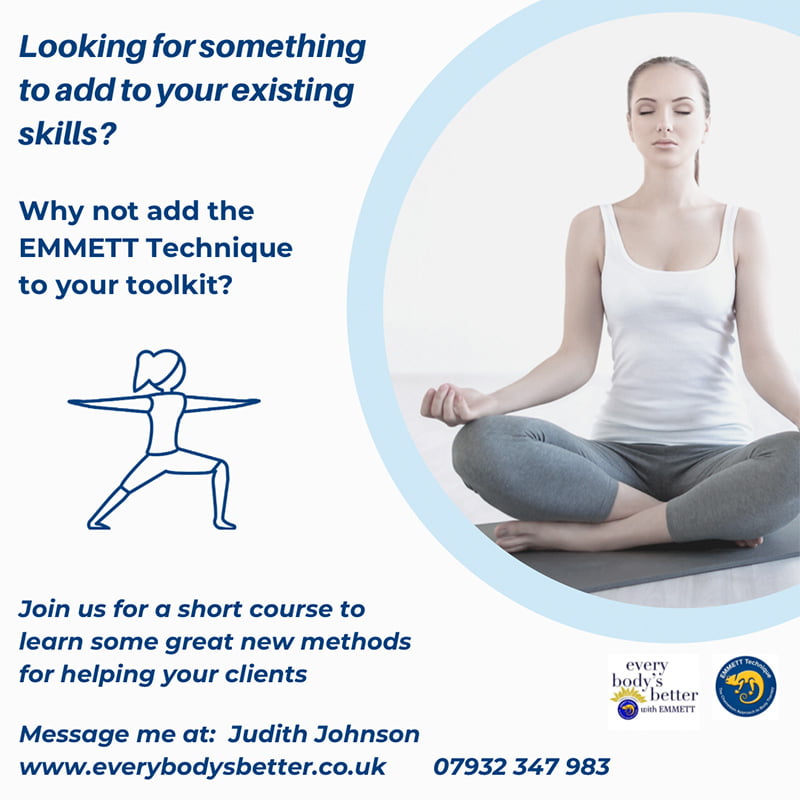 A new addition to the EMM-Tech Course Family