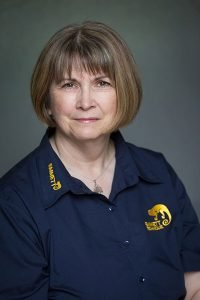 Are you tired of experiencing discomfort in your body?
Are you struggling with stiffness or restricted movement?
Are you experiencing problems with balance or general ability to relax?
Are you having discomfort from traumatic or surgical scars?
Do you have a dog that needs help to achieve a better range of movement and agility?
Are you looking for a qualified, expert practitioner with an extensive background in health and social care for people with illness and disability, who enjoys working with people and also has a love of dogs?
A passionate proponent of the use of gentle touch therapies.
Judith's Background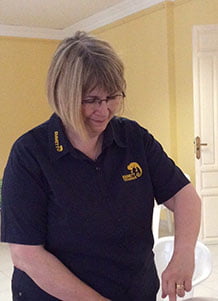 I started my business, Every Body's Better, in order to share EMMETT and Bowen Techniques initially with friends and family. With growing experience and training, the therapy business was expanded to cover a wider geographical area, which now spans from Carmarthenshire to The Vale of Glamorgan.
Since learning the EMMETT Technique I have gradually reduced my use of the Bowen Technique as most of my clients prefer the immediacy of the EMMETT treatment.
My practice now includes Scarwork therapies and also EMMETT Treatment for Dogs.
I am an experienced health and social care worker having previously worked in Health and Social Services, as well as in Higher Education, for over 25 years.
Having enjoyed 8 years working as a lecturer in the London Hospital Medical College in Whitechapel; I continued my own education by gaining a Post Graduate Diploma in Design Research for Disability at the London Metropolitan University and then a Master's Degree in Higher and Professional Education at the Institute of Education, University of London.
I experienced sciatica and upper back pain following what seemed to be a simple injury many years previously and began to search for pain relief beyond that offered by conventional medicine. Osteopathy offered the first relief from sciatica but it was when I began to learn Tai Chi that the pain started to ease on a longer term basis.
This started me on the path of exploring other therapies and their ability to provide lasting pain relief. It also made me appreciate that the relief gained through therapeutic bodywork should also be maintained by appropriate and regular exercise.
Training in the Emmett Technique
In 2007, following internet conversations with other practitioners in Australia & New Zealand, I learnt of the existence of the EMMETT Technique.
Ross Emmett came to London to teach the first EMMETT Practitioner course and I was the first Welsh therapist to achieve  practitioner status in 2009. In 2017 I passed the Advanced Practitioner Certification in EMMETT Technique in 2017.
For more information about training in EMMETT Technique see Training.
EMMETT Technique is also used for treating animals – in fact, Ross initially worked on animals before starting to work
with people. Now EMMETT4Animals – is being taught in the UK.
I have been studying EMMETT for Horses and also EMMETT for Dogs course here in Wales. It is wonderful to watch the immediate responses in the animals.
I am on the practitioner register for the EMMETT Technique and I study regularly with the originator of this technique, Ross Emmett, and his European tutors to review and develop my skills. Ross Emmett is constantly developing new procedures to help ease discomfort and, once these new procedures have been thoroughly tested by experienced therapists, he includes them in his international teaching programmes so that we may all benefit.
I have now completed all the available advanced courses presented by Ross Emmett – EMMETT Practitioner (EP) 1, 2, 3, 4, 5 and 6. I have attained the Certified Advanced Practitioner level. In November 2016 I attended a new EMMETT training day focussed on Women's Health.
In a return to my previous role of adult educator, I was excited to have been offered the opportunity to be licensed by Ross Emmett to teach the Easy Muscle Management Course [Emm-Tech]. There is now an opportunity for therapists and non-therapists to learn this small package of EMMETT procedures so that they may help family, friends and clients.
In addition, when invited by Ross Emmett, I joined the EMMETT-UK team who teach the EMMETT Practitioner courses, and I now offer courses in Wales and in the West of the UK.
Excitingly, Ross Emmett offered me the opportunity to take the EMMETT Practitioner Course to other countries and I have taught in both Portugal and Spain.
Training in EMMETT Technique for Animals
Under the guidance of UK Senior Instructor, Tony Sherry, I completed the EMMETT 4 Horses course at Horse Haven Wales in Abermeurig. Although originally only planning to complete level one to gain an insight into working with horses, I found myself enjoying it so much I completed the whole course!
Dogs are more my thing, so I continued my personal EMMETT journey, again with Tony, by starting the EMMETT 4 Dogs training in Llanfair Clydogau near Lampeter. I completed this training in early 2019 and will be setting up opportunities for people to bring their dogs for EMMETT treatment. Initially treatments for dogs will be at your own home.
Training in Bowen Technique
Training with Bow Tech in Farnborough and London, I qualified as a practitioner in 2004. Since then I have taken courses with senior BowTech teachers from the UK and Australia :
Bowen in Sports Injury Rehabilitation and Prevention
Bowen for Mother & Babies
Bowen for people with Stroke and Chronic Fatigue
Mind Body Bowen – for helping clients with the psychological symptoms often encountered alongside physical disabilities with the psychological symptoms often encountered alongside physical disabilities
Training in Scar Therapy
Following an ankle injury which required surgical intervention, I developed an interested into how the presence of scars in the body can affect movement and levels of comfort.
I have trained with the UK teachers of Sharon Wheeler's Scarwork, Emma Holly and Jan Trewartha and have completed an advanced training in scarring following breast surgery in November 2018. Another specialist course followed in September 2019 -this time looking specifically at helping people with Musculo-Skeletal related scars – such as joint replacement and post fracture repair surgery
I have also learnt McLoughlin Scar Tissue Release from its' originator Alistair McLoughlin
I am trained in First Aid, have qualifications in Anatomy & Physiology and am fully insured.