This exciting new course is aimed at people who are keen to learn EMMETT Technique to help people with hand and arm issues.
This course will be run for the first time here in the UK in 2022. I will be offering this course locally in South Wales, in Milton Keynes and also I would be happy to travel given enough student interest.
We are very excited to be offering this course here in the UK. Dates are now available on the EMM-Tech application form.
Please make contact if you would like more information. An application form is available on the EMM-Tech page.
Pre-requisite: EMM-Tech Short Course or at least Modules 1&2 of the Practitioner Course
What you will learn
(Approved syllabus version: 2020)
9 releases to relax the neck, shoulder, upper arm, forearm, elbow  and wrist:
Neck Release – to relax the neck
Forearm – to relax the arm and hands (grip)
Pec Minor – release the front shoulder area
Deep Shoulder – to relax the top of the arm
Triceps – to relax the back of the arm
Arm lift (Lat Dorsi) – to relax the back and shoulders
Wrist – to relax the wrist
Elbow - to relax the elbow
Shoulder Restriction (AC & Biceps) – to relax the shoulder
Frequently Asked Questions
Who is this course suitable for? Pre-requisite: EMM-Tech Short Course or at least Modules 1&2 of the Practitioner Course. An interest in treatment or therapy for hand care is required e.g suitable for hand therapists, massage therapists, complementary therapists.
What will I learn?
The results from these moves are usually immediate – you will be able to see and feel the changes for yourself and after a short demonstration and practise you will be able to achieve the same kind of results for yourself and others.
On the additional hand care course you will learn additional moves specifically for the neck and arm
How is the course assessed?
EMM-Tech is not an assessed course however students are supervised during practice sessions and extra assistance is offered where required, so all become confident to perform the moves. A certificate of attendance is awarded at the end of the 8 hour course.
Can I use the training days as Continued Professional Development (CPD)?
This will depend on which professional body you have membership of. If you contact your own association and enquire whether you will be allowed to claim CPD. EMMETT Therapies is happy to help by providing them with information about the course for them to evaluate.
Investment
The current cost for each participant for this additional 8 hour course is £110 in the UK. Payment is required on booking a place on a course. This is the early bird fee and must be paid at least 3 weeks before the course. For further details on terms and conditions please see the emmett-uk.co.uk website.
Please note:
Cancellation policy is in place.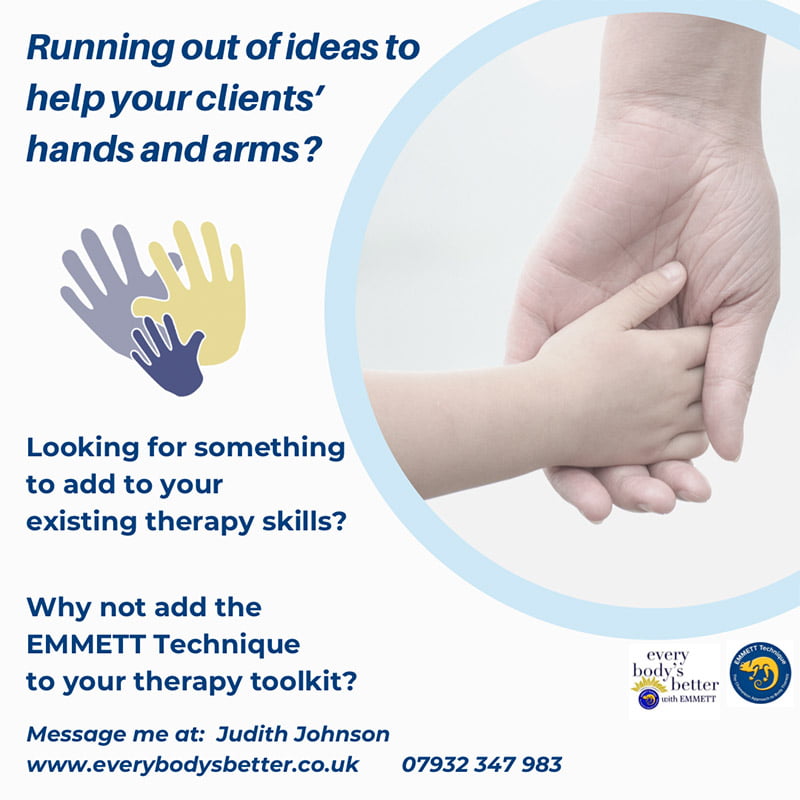 A new addition to the EMM-Tech Course Family