I was very privileged to be invited by Emma Holly to join #teamscarwork to provide therapy for the athletes training for the Invictus games at Bath University in June and September 2019.
The members of #teamscarwork each have other therapy techniques too and we were encouraged to use whatever technique was most suitable for each athlete. So, at times this was ScarWork at other times, for me, it was the use of EMMETT Technique to help restore comfortable movement and also, very importantly, to help with the tension and stress of competing and wanting to compete to the very highest level to qualify to go to the international Invictus Games in Holland in 2020.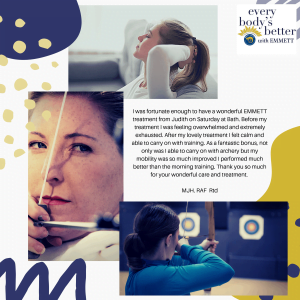 This really was an amazing experience and I am very grateful to have had the opportunity to be a part of it all.
I will be watching with even more interest next year, to see if any of he athletes we treated will be representing the UK in the Hague.