Looking forward to when we are allowed to get back to work – although we have yet to get an idea of when that will be. Fingers crossed it will be sooner rather than later, with all the safety measures we have in olace as therapists. 
Many of you will have missed being able to make an appointment to get treatment for an acute injury and others will feel that they are missing their regular treatments to help maintain their bodies in a good state.
So what is the difference here between EMMETT Technique treatment and maintenance? 
They are both treatments – one for a new problem that needs to improve quickly to restore movement, relieve discomfort or reduce tension; maintenance programmes can follow for those who are taking part in sports or are in jobs that involve awkward positions or repetitive movements. 
Acute Treatments
Following an injury or new set of symptoms, it is best to have treatment as soon as possible; remembering that EMMETT and ScarWork are Complementary to medicine and not an alternative. It may be that I ask you to see your GP or consultant first before we start treatment, as it may be beneficial to delay therapy until the medics are happy for you to continue. 
Maintenance treatments
 Also very helpful for people with long term problems and, more recently, for those people waiting for "non-urgent" surgery. This last group have found regular monthly (or more frequent) treatments help keep them mobile and more comfortable while they face a potentially longer wait for medical / surgical treatment. 
In order to make seeing treatments easier I have a number of options now available:
– One off single treatments,
– Packages of treatments – set packages or bespoke packages for your unique needs,
– Membership option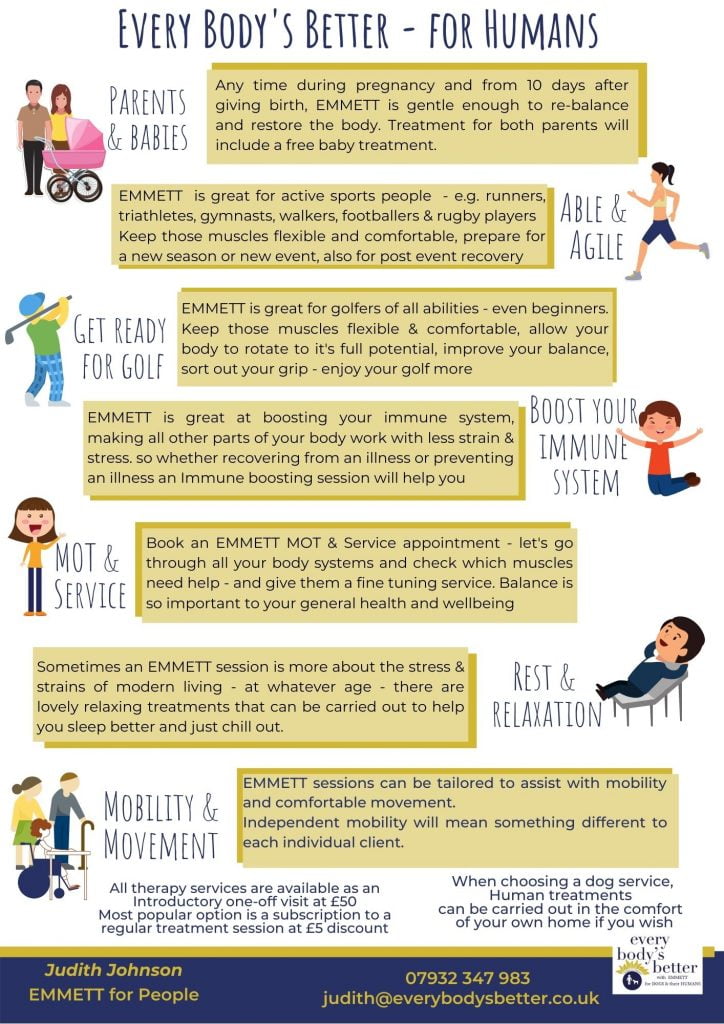 Membership Options
This was trialled from last September and many clients found it a great way to stay on track with their maintenance treatments. It also offered a £5 reduction in the cost of a session.
Plus some additional benefits :
– One session a month for treatment or maintenance – must be used within the month
– Additional sessions can be purchased as needed
– Paid by standing order
– The session can be gifted to another person or shared within the family
– The session can be an EMMETT session or a Scarwork session
– The session could also be to experience any new therapies I add to my skills
– Members will be eligible for a discount of 10% on any course fees for my courses.
– Children's membership will need some discussion on pricing, depending on age. 
I look forward to offering all of these options again when we are allowed to return to work.
Happy to discuss any of this over the phone or by e-mail. 
Keep safe everyone
Judith